Home Grown Beef From Our Family to Yours!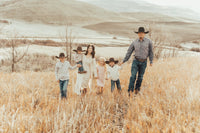 About Flying O
Flying O Ranch is located in Northern Utah and Southern Idaho. Shane is a lifelong cowboy who finds pride in raising the best of the best when it comes to cattle. Shauni is a stay at home mom, she stays very busy with furniture building, and raising 4 free range kids, and doing everything in between. The kids are very wild, love their animals, and are the right hand helpers of keeping the ranch going.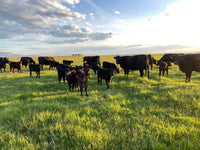 Ranch Life
For us, ranching is a way of life. The life where we get to work side by side, the kids are outside learning the value of hard work, the responsibility of caring for animals, making their own fun in the wide open spaces. Ranching is hard work, but it's a family job where we get to spend countless hours together bonding, laughing, creating memories, and learning so many lessons.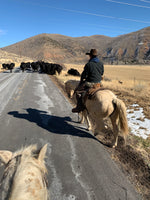 Why choose Flying O Beef?
We work so hard as a family to care for our animals everyday. We strive to bring you the highest quality beef so you know and trust where it comes from. We never treat our animals with hormones, or antibiotics, our beef is GMO-free and completely grass fed and grass finished. We dry-age our beef for 21 days minimum that provides an incredible flavor and tenderness.
Testimonials
This company is everything I was looking for. The meat is grass fed and high quality. Plus, they deliver locally! This saved a lot on shipping. Prior to finding Flying O I was purchasing online for a lot more. I'm so happy to find a local company to support with a great product.

Justin
I just wanted to thank you and your family for the beef you sold us. It's some o the best we have had and we love the fact we know where it came from.

Anji
We want to give huge thank you to Chris @Cdphotog for so many of these amazing photos. www.cdphotog.com